Chicklet Marketing provides your business with the right ideas and strategies for successful email marketing. This is an area that enables you to keep in touch with your customers on a regular basis. If properly managed, it gives you the ability to track progress through online polls and provides your clients with a platform to communicate their feedback.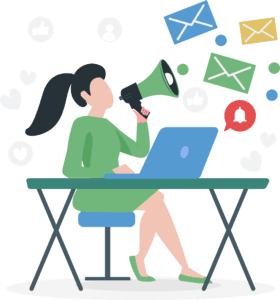 What Is Email Marketing and How Does It Help My Business?
When a person visits your website, the key goal is to turn them into a customer for the goods or services that you sell. One way of ensuring that this happens is by politely urging them to leave their email address for future newsletters or just more information regarding your business. This becomes one of the best lead generators as you now have a ready market in your database. By leaving their email address, they are giving you the permission to contact them which means they are interested in what more you have to offer.
How Does Chicklet Marketing Help?
As a leading digital marketing agency, Chicklet Marketing will help you create a successful email marketing campaign through:
Your email marketing campaign needs to be handled in a way that shows your brand in the best light. Do not worry about establishing good rapport with your clients or having that competitive edge in your niche market. With Chicklet Marketing, your online business will be catapulted to the next level through effective email marketing. For these and other services that will promote your online business, do not hesitate to get in touch with us.